#Weles BOX X - an integrated modular solution for WA101 PU Probe arrays
#WELES BOX X DESIGNED TO SUPPORT WA101 PU PROBE ARRAYS
---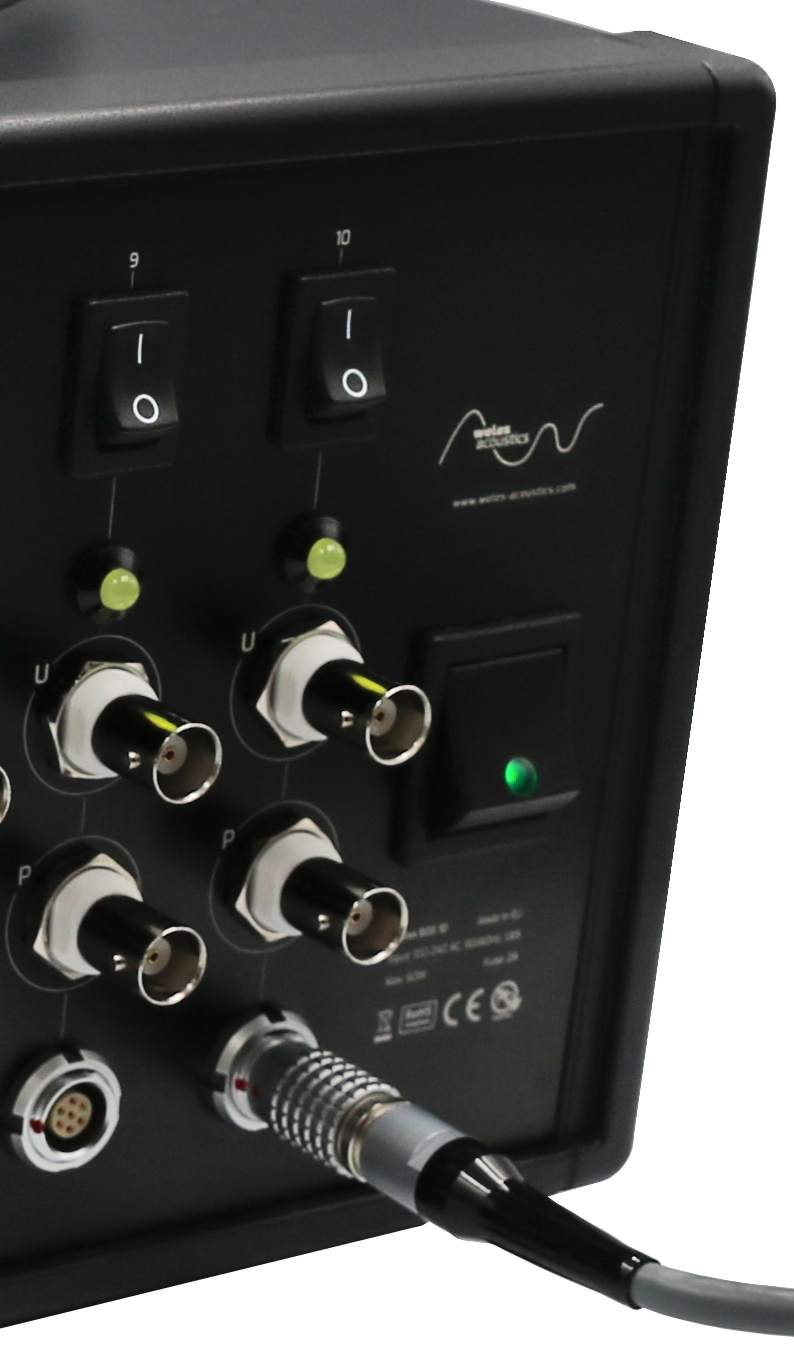 Most challenging NVH (Noise Vibration Harshness) test campaigns require simultaneous acquisition of sound data from sensors positioned at multiple locations around the tested device. In the standard configuration of the WA101 PU probe, the probe is equipped with a dedicated power unit, which is called the Weles BOX. However, working with a stack of several Weles BOXes can be unwieldy. For all such applications the Weles BOX X is a great solution.

The Weles BOX X was designed for all measurements which require multiple PU probes. Such measurements include the so-called panel noise contribution analysis, operational transfer path analysis or simply sound intensity measurements at fixed probe locations under a variable noise output regime - for example run-up of an electric/internal combustion engine, or order analysis of any type of rotating machinery. The Weles BOX X will also be useful for a custom PU probe array configuration. Example of a PU probe array positioned over a gearbox below:
| | |
| --- | --- |
| | |
In the above example, the WA101 PU probe is suspended over the surface of a gearbox by means of Loc-line modular tubes, which allow full flexibility in terms of probe positioning. Weles Acoustics' staff can assist you in all matters related to custom PU probes positioning system or probe array configuration.
Weles Acoustics' Weles BOX X is a modular device designed to support up to 10 standard WA101 ½" PU Sound Probes. Each probe can be operated separately through a dedicated Weles BOX card equipped with its own individual power switch, probe input port and 2 analog BNC output channels - First channel for sound pressure, second for particle velocity.
#SYSTEM COMPONENTS:
Weles BOX X is an optional power delivery unit for the WA101 PU probe. Weles BOX X comprises the following items:
Up to 10 Weles BOX power cards (one card required for one WA101 PU Probe)
Integrated power supply (Input 100-240 AC, 50/60Hz)
Power cord
Protective case